Large Desiccant Dehumidifier Hire 2000 CFM
We have the 2000 CFM Climate by Designs Desiccant Dehumidifier for hire available on a trailer ready to start drying for whatever application (water damage, corrosion control, food manufacturing). This is the class leading in the US and is the standard for large mobile desiccant drying.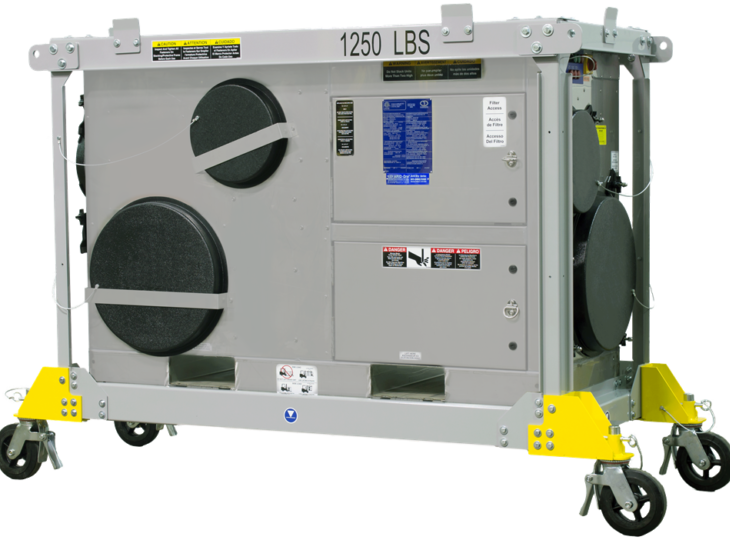 Specifications
Electrical Requirements
415 V / 61 Amp
Dimentions
233 x 193 x 82 cm
The 2000 CFM dehumidifier is the perfect unit for Desiccant dehumidification in Australia.
Features of This unit
Swivel Locking Fixed Castors
Can be Stacked on top of each other for storage
Remote Humidistat
Mounted on trailer with winch for easy loading and unloading
18" or 20 " Round Supply Connections
Also supplied for hire with Protective Cage
We have used this unit on several commercial buildings which has limited access. Typically desiccant units are placed outside the building and ducted in from the outside. Many buildings may not provide sufficient access for this to happen.
In this case you can use to 2000 CFM machines. It can be wheeled through a standard sized doorway and can even fit inside larger lifts or freight lifts.
Power Supply
We also have a 45 KVA generator available for hire with this unit if you do not have site power. However, we have found that most commercial buildings with 3 phase power can support this equipment. This will save you hire costs on a generator.