Large LGR Dehumidifier Hire Dri Eaz 7000
This is an industry class leading unit. We cannot find a higher performing dehumidifier available in Australia. It is the standard for any medium to large residential or commercial water damage job.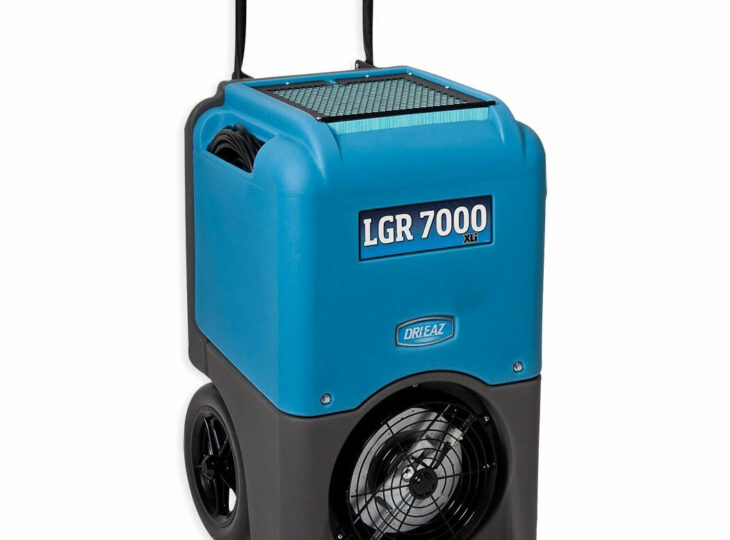 Specifications
Water Removal Max
110 Litres Per Day
Applications
Concrete Dying
Very effective for drying concrete slabs before the new flooring is laid. Concrete floors should be dried to ASTM to ensure there are no flooring or moisture problems.
Water Damage Restoration
It is specifically designed to dry out water damaged properties.
This unit can remove up to 110 Litres of moisture per day. There is no other dehumidifier which has this high performance in this compact size. This is due to Dri eaz LGR and Crossflow technology. We will not go into this here, suffice to say that it can draw a very high amount of moisture in a smaller amount of time than other dehumidifiers on the market.
Why is this important?
Let's say you have a concrete slab to dry in a commercial property and handover is due very soon. What could usually take weeks with a normal refrigerant dehumidifier may take much less time with an LGR dehumidifier such as the Dri Eaz 7000.
How about if you need to dry out a property which is affected by water damage? you can either use several small refrigerant dehumidifiers available. Or you can use just 1 or 2 LGR 7000's.
In other words, it can save you money because you would need to hire less units for a less amount of time.
Also one other benefit you will get from this unit is a 12 meter drain hose. This unit will pump out the extracted water into a drain for you. This can be inconvenient if there is no drain nearby. A great feature of this unit is that you can place it up to 12 meters away from the drain due to the extended hose. Other machines on the market do not offer this - or if they do, they will underperform because the pump out is not designed for an extended hose.
A great benefit from the unit is that the outflow air is positioned at the front of the unit pointing slightly downwards toward the floor. This is fantastic if you need to dry wall bases or concrete floor. You can have the hot dry air pointing directly onto the surface which you are drying. Other units on the market may not offer this as a feature.
Any Downsides?
Yes, they are not a small unit (50kg). You will need to bring a van or a ute to pick it up and you will need 2 people to lift it.

If this is a restriction for you, please hire our smaller version of the Dri Eaz BD2500 machine which can be carried and transported by 1 person and a car.